Join the team to elect John Mackenzie to represent the 22nd District in Delaware's General Assembly!
Let's elect...
a career educator to strengthen our schools.
a PhD economist to promote smart growth in our community.
a life-long conservationist to protect our environment.
I have been canvassing hard since early June, talking with everyone--Democrats, Republicans, Independents and Third Party voters-- and we're going to win! I'm the Democrat in this race, but I intend to represent everyone in the 22nd District.
I constructed a brief online survey to elicit your opinions on a number of current issues--let me know what you think!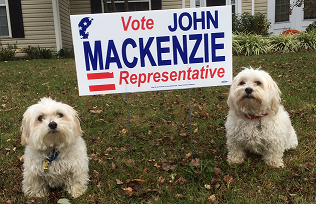 Any other issues that you want to discuss? Please email me at john@mackenzieforstaterep.com.
It's the final week before Election Day, and there's lots of work down the home stretch. Canvassing will return to the high-density communities where we think can gain the most votes; join the team of canvass volunteers this weekend! The mail assembly program is finishing up, there's final fundraising, phone-banking, sign distribution, planning GOTV (get out the vote) for Election Day...any volunteer help is most welcome!
Email me if you'd like a yard sign and we'll drop it off!