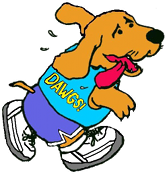 Additional Race Info
The Trail Triple Crown is run in Delaware's White Clay Creek State Park, which spans about 3,300 acres extending from the Pennsylvania border into the city limits of Newark, DE. The entire park includes about 50 miles of trail, including sections of the 192-mile Mason-Dixon Trail, through the White Clay Creek and Middle Run watersheds. Terrain is moderately hilly mixed hardwood forest interspersed with streams and upland meadow. Trails are mostly single-track with short sections of dirt road; only a couple of hundred feet of pavement (road crossings).

All races start and finish near the pavilion at the W.S. Carpenter Recreation Area of White Clay Creek State Park. The park entrance is on Rt. 896 (New London Road) about two miles north of downtown Newark, just north of the Wedgewood Road intersection.
DE State Parks parking fees: $8 for out-of-state vehicles, $4 for DE vehicles. We pay this for pre-registered runners; race-day registrants pay at the gate. Save yourself some money and pre-register!
Be aware that the park rerouted some trails in 2015, so this year' marathon, half and 10K courses may be a teensy bit longer than advertised. We're just sayin'.
---
The half-marathon is basically a sequence of six trail loops linked by five short out-and-back trail connectors. Four of the connector have aid stations; you will pass by each aid station twice. (8 aid points! How hard can this be?) The half-marathon course starts and finishes on the same trails as the 5K and 10K. You will ford White Clay Creek twice. (Most of the time it's only knee-deep.)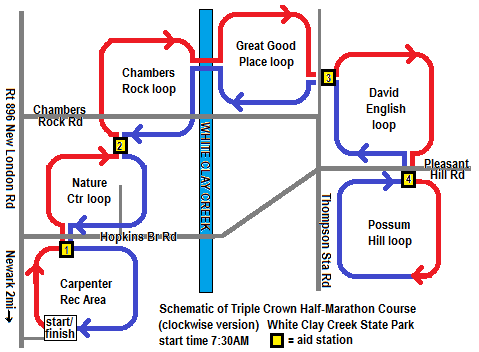 For 2016 these loops will be run clockwise so you will turn left at every marked trail junction. The outbound half of the course is marked with red pie plates, with red arrow signs at trail junctions; the return half is marked with blue pie plates and blue arrows at trail junctions. Here are some of the turn signs that you will see at the junctions, red arrows for outbound, blue for inbound; converge onto 2-way connector sections, diverge onto loop sections. Red or blue, diverging or converging, just bear left at any of these arrow signs!

Course markings may also include additional arrow signs, orange or pink survey flags, or spray chalk marks on the ground.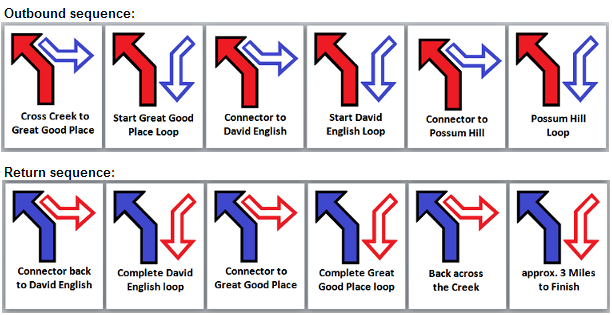 The half-marathon crosses White Clay Creek at mile 3.25 outbound and mile 10.25 inbound.
---
The marathon course is simply two circuits of the half-marathon course, run in the same direction as the half-marathon. You will ford White Clay Creek a total of four times. On narrow trail, marathoners should yield to runners in other races.
---
The 10K course is the first three trail loops extending north from the Carpenter Rec. Area, west of White Clay Creek. The course will be marked with yellow pie plates. The 10K will be run in the opposite direction of the half-marathon. There are two aid stations; you will pass each twice.
---
The 5K course is a single trail loop entirely within the W.S. Carpenter Rec Area of White Clay Creek State Park. This will be run in the same direction as the half-marathon. Follow red pie plates outbound to the Arc Corner Monument aid station, then blue pie plates inbound.
---
The courses are marked with colored pie plates, white spray-chalk on the ground, survey flags in open areas, and turn arrows and/or colored ribbon at trail junctions.
This is a trail race, which means some people may go off-course temporarily: it's part of the sport. Pay attention to the marks and think for yourself. Except where the course is completely obvious, you should see a trail mark at least every 100 yards or so. If you do get off-course, just retrace your route to the marks. (There will be no extra charge for any additional miles you run unless you whine about it!) You will never be more than 1.5 miles from a road crossing with water/aid station.
Participants must understand that they run these races entirely at their own risk. The churches, homeless shelter programs, other organizations and individuals involved in this event assume no responsibility for any participant injury arising from it. The trails include rocks, mud, fallen branches, slippery leaves, protruding roots, and lots of other hazards. The marathon, half-marathon and 10K include road crossings; although all but one of these are marked crosswalks, watch out for traffic at all crossings! We will give you plenty of liquids, snacks and encouragement at the race staging areas, and we will do our very best to get multi-race participants ready for the next race, but our volunteers will not be responsible for rescuing lost or injured runners on trail.
Apart from one paid traffic control official, everyone helping with this race is a volunteer, so be sure to smile and assure them you are having a really swell time. The Newark area is well served by local hospitals, emergency rooms and rescue squads, but we are not planning to have medical personnel on site at any race staging area. Please note that pets, trail bikes, headphones, baby strollers and similar distractions will not be allowed in any race. Bandits will be discreetly taken out and shot.
Endorphin junkies: If you are participating in more than one race, you may want to bring extra shoes and socks for subsequent races. The 10K start is 2 1/2 hours after the half-marathon; the 5K start is 75 minutes after the 10K. We need prompt starts to maintain these intervals and still get the TC done in reasonable time. Most TC runners will be able to finish the half-marathon and 10K in time for quick snack and recovery. Try to keep warm and moving between races. We are not promoting any commercial sports drinks, energy bars, etc. We provide basic snacks and liquids, but if you are accustomed to a specific brand of drink or snack, bring your own.
Permission for us to conduct this event depends on your cooperation: please obey the park rules! Delaware's State Parks are all "carry-in/carry-out:" we have to collect and haul out any trash, so it will really help us if you take most of your own trash with you when you leave. Please park in designated spaces, or as instructed; don't park on the semi-circle near the pavilion. We recommend you not bring pets, but if you do, they must be kept on a <6-ft. leash at all times. Don't bring beverages in glass containers. The park facilities include plenty of flush toilets, drinking water, pay phone, playground, disc golf course, volleyball, etc.
If you are coming in the night before and/or staying the night after, Newark has a cluster of hotels and restaurants at I-95 exit 1 (Rt. 896N, Newark) about 3 miles from the start:
Howard Johnson's, 1119 South College Ave.; phone: 302-368-8521.
Quality Inn, 1120 South College Ave.; phone: 302-368-8715.
Embassy Suites, 654 South College Ave., phone: 302-368-8000
Homewood Suites, 640 South College Ave., phone: 302-453-9700
Sleep Inn, 630 South College Ave., phone: 302-453-1700
Closest to the start is UD's Courtyard Marriot on just north of downtown on 896, about 1.5 miles from the park; phone: 302-737-0900.
Newark is home to the University of Delaware, and has plenty more restaurants and other amusements on Main Street.