Family as political metaphor:
Politicians often use the family as a metaphor for community and country. Neo-conservatives promote the myth of the "traditional" family, ruled by an authoritarian father who demands obedience and moral behavior, echoing the demands of the Old Testament God. America will only recover its former greatness if we punish immorality (welfare queens, gays, illegal immigrants, etc.) and promote "family values." Wives, submit to your husbands. Spare the rod and spoil the child. This myth appeals most strongly to the Old White Guy demographic: a peaceful, quiet household, no dissent, everybody doing what they're told.
Real families aren't like that. Families come in all forms, and most family roles aren't gender-specific. Most of us grew up with both parents working, and both parents nurturing us, even if they got divorced. Or if one parent was absent, the other figured out how to be mom and dad. We learned discipline by facing logical consequences, not by corporal punishment. Our parents argued, and they tolerated a lot of noisy dissent from us, and they made us tolerate obnoxious siblings and other relatives, and as we got older we shared in family decision-making. That's the family metaphor for America that I believe in--noisy, adaptable, nurturing, tolerant and inclusive.
My family:
My primary jobs for the past 32 years have been Father and Husband. I am blessed with a big family: a wonderful wife, four adult children of my own, four stepsons, a daughter-in-law, a son-in-law, and a fantastic grandson. My family has had its share of triumphs and tragedies, and grown bigger and stronger through them.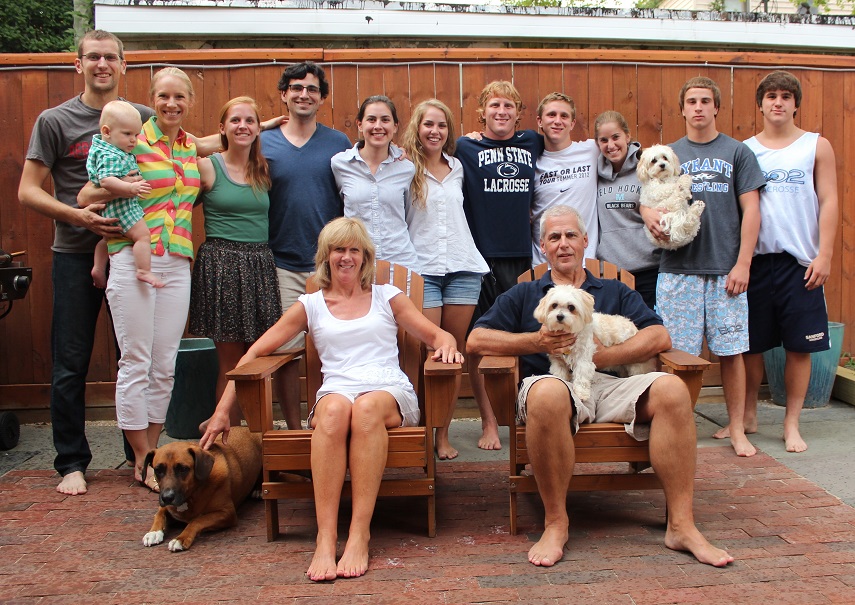 Family background:
I grew up in a medical family, where caring for people is in the genes: my grandfather and father were MD's. My father worked long hours, and practiced medicine to age 80. My mother was an RN/MPH and executive director of the Visiting Nurse Association of Rhode Island.
They were deeply committed to education. My brother and sister and I were expected to excel at school, but given a lot of freedom. My parents supported me through a BA in English from Harvard in 1975, and an MA in economics from Trinity Hall, Cambridge University, in 1977. After two years working in Providence, RI, I won a research assistantship at the University of Rhode Island and earned my PhD in economics. I taught economics at Bryant College and Providence College, then joined the University of Delaware faculty in 1985. My parents supported both of my siblings through college and then medical school. My sister is a prominent pediatrician in Rhode Island, and my brother is an OB/GYN in Massachusetts, teaching at Harvard Medical School.
Why I'm running:
Throughout my career, I have been focused on issues that affect all of us in Delaware: strengthening our public education system, reinvigorating our economy, and safeguarding our environment. I served on the Christina School Board for 7 years, trying to help our public schools serve our kids better, and I am a career teacher myself. I have served on the faculty of UD for almost 30 years, teaching and conducting research in the department of applied economics and statistics, teaching two generations of students how our policy choices determine whether our economies grow or stagnate. And I served 18 years as a trustee of the Delaware chapter of the Nature Conservancy, and 5 years on Delaware's Open Space Council, trying to protect our landscape and its ecosystems from continued degradation.
Becoming a grandfather, turning 60 and seeing my youngest child finishing college got me thinking hard about the future. After three wonderful decades at UD, it's time to "take it to the streets." I can do a lot more good in the General Assembly, serving as your Representative, than in a UD classroom or an academic journal article. I hope to spend the rest of my career giving back to the community that has been so good to me and my family.